CREATIVE ECONOMIC DEVELOPMENT FUND PROGRAM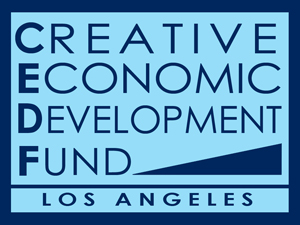 As part of the Creative Industries Incentive Network (CIIN) program, Los Angeles' Creative Economic Development Fund (CEDF) is an investment program that provides funding for projects that will help launch startup or expand micro-sized creative enterprises (5 or fewer employees). This year $100,000 in grants are available to entities—independent businesses, self-employed artists or cultural producers, artist collectives, or nonprofits with significant earned income activities—that use commercial strategies in pursuit of an arts or culture mission that have a social impact.
The objective is to support creative enterprises that will have a positive economic development impact in the City of Los Angeles, with priority consideration for enterprises and their projects that will benefit economically disadvantaged communities or geographically underdeveloped neighborhoods. The outcomes of this program, in priority order, are to:
recognize and support revenue-generating creative enterprises;
contribute positively to the economic development of the City of Los Angeles; and
make a positive social impact on a community that may be defined by a socio-cultural group or a place-based neighborhood of Los Angeles, with priority for economically-disadvantaged communities.
For a map of the City of Los Angeles geographic boundaries, visit http://www.laalmanac.com/LA/lamap2.htm  
Current Program Information:
Who is eligible to apply:
To be eligible for consideration, enterprises must:
be based in arts, culture, or independent design by either existing in the pursuit of artistic practice or cultural expression, or by making arts or design the primary goods or services;
apply commercial strategies that make, or will make, a positive economic contribution to the City of Los Angeles;
have owners (at least one) who are based in Los Angeles (i.e. currently living and/or working in the County of Los Angeles);
have 5 or fewer employees;
be 10 years old or less; and
be in good standing with the City of Los Angeles (i.e. meeting obligations if currently contracted by the City and compliant with all local and federal laws governing welfare, employment, business licensing, taxation, and other applicable regulated domains).
NOTE: We accept proposals wherein the project itself may be a business venture that is intended to exist temporarily.
Application Deadline: Thursday, April 5, 2018 at 12:00 p.m. PST 

Guidelines 

FAQs
The Creative Economic Development Fund online application can be accessed at: https://ccigrants.cgweb.org/. Applications will be accepted online ONLY through CCI's GO™ system.
---
PREVIOUS GRANTEES
---
GRANTEE ACTIVITY
Narrated Objects
Narrated Objects launched their first publication: We Heart P-22, a coloring and activity book celebrating LA's most famous mountain lion. Watch for their popup at Los Angeles Contemporary Exhibitions in December 2017!
Eastside Entrepreneurs
Cha Cha Covers, an enterprise founded by Ana Guajardo of Eastside Entrepreneurs Collaborative Studio, is featured as part of LA Original, a pilot program of the Mayor's Fund for Los Angeles in partnership with the Mayor's Office of Economic Development that celebrates LA as the creative capital of the world.
Project Q Hairstream
ProjectQ's Hairstream project was featured in Vogue for Pride 2017.
CCI CEDF Grantee Madin Lopez will be featured on MTV's Transformation. Lopez is a hairstylist who believes a full makeover is one of the best ways for a trans or gender non-conforming person to feel comfortable in their body. Throughout Transformation, Lopez offers free hairstyling and mentoring to the six subjects. Transformation airs via MTV's Facebook page on Thursdays at 10:15PM ET.
Big City Forum River LA Presents the LA River Index
On June 21, 2016, River LA released released research on the LA River via a new, publicly accessible online resource called the LA River Index.
The LA River Index is a living document that will continue to evolve and be updated as our team continues to study various elements of the LA River. It is meant to be a shared resource by which to inspire, enhance and evaluate future work on the river. The Index includes data from existing studies and master plans, incorporates input from three community listening sessions as well as the team's own research along all 51 miles.
Piece By Piece
Piece by Piece at the Bradbury Bldg – A World Art Day Exhibit Artist Reception Friday, April 15th from 3-6:00 p.m. at 340 S. Broadway, Los Angeles, CA  90013.  This exhibit celebrates creativity and the original accomplishments of some of our most prolific artists. Artisans are residents of Skid Row and South Los Angeles engaged in the Piece by Piece mosaic learning program. Show Dates: April 13 – 16. Click here for more information.
Big City Forum
Big City Forum will have a booth at Rob Pruitt's Flea Market February 13-14,2016. Profits go to support the launch of our first design education project, Big City Lab, working with 9th grade students at Camino Nuevo's Miramar HS in the Belmont/Westlake area, within a social justice, design, and urbanism focus. Details here: http://nomadicdivision.org/
Public Matters LLC
The "Hidden Hi Fi Halo-Halo Series" will present a Combo Jeepney Tour + Mixology Workshop with renowned local craft barkeeper Darwin Manahan on February 6th and March 19th. If you follow this world, you already know him. Seats are limited. Details here: http://pwcsc.org/hhfhalohalo/  
Piece By Piece
In addition to a series of Holiday Shop Hours Piece By Piece are conducting throughout the season, they are Popping-Up with fellow-recipient LURN at LURN's Alternative Black Friday, and hosting their own Pop-Up Market at Mercado La Paloma in December. 
Big City Forum
Leonardo Bravo of Big City Forum had a wonderful interview that came out about one of the participating design collectives in the Talleres Publicos project up in Pacoima. http://inform.design.calarts.edu/2015/10/building-community-through-collage/
---
If you have additional questions about the application process, contact Lauren Bailey, Managing Director, cedf@cciart.org, (213) 687-8577.
---
Creative Economic Development Fund is supported by: