CREATIVE ECONOMIC DEVELOPMENT FUND PROGRAM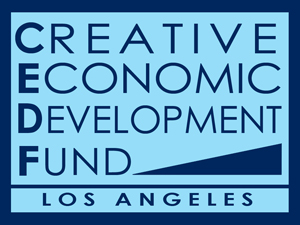 CCI was proud to pilot four rounds of Los Angeles' Creative Economic Development Fund (CEDF) from 2015-2018 in collaboration with the City of Los Angeles Department of Cultural Affairs, with support from the Surdna Foundation and the Roy and Patricia Disney Family Foundation. This program is now closed.
CEDF was an investment program that provided funding for projects that helped launch startup or expand micro-sized creative enterprises (5 or fewer employees). A total of $405,000 in grants were made to independent businesses, self-employed artists and cultural producers, artist collectives, and nonprofits with significant earned income activities that use commercial strategies in pursuit of an arts or culture mission that have a social impact.
The objective was to support creative enterprises that have a positive economic development impact in the City of Los Angeles, with priority consideration for enterprises and their projects that benefit economically disadvantaged communities or geographically underdeveloped neighborhoods. The outcomes of this program, in priority order, were to:
recognize and support revenue-generating creative enterprises;
contribute positively to the economic development of the City of Los Angeles; and
make a positive social impact on a community that may be defined by a socio-cultural group or a place-based neighborhood of Los Angeles, with priority for economically-disadvantaged communities. 
---
"For both Cha Cha Covers and Urban Xic, our community and culture work is intertwined with being entrepreneurs. This year [2016-17] was especially difficult politically and had a deep impact on the communities in which we produce our work and consider our clientele. In addition to funding our lines, studio space and creative endeavors, this grant allowed us to be activists in our communities through our respective culture work committed to social justice."
- Felicia Montes, Eastside Entrepreneurs Collaborative Studio (2016 CEDF grantee to establish a shop with walk-in retail and workshop space for other local artisans to develop their businesses)
"The CEDF grant was the catalyst for a really good year and a potential future. […] Our surviving and thriving is a testament to our cultural vibrancy locally and beyond. We are a dance studio, we practice and promote noncommercial dance in a culture that is interested in the bottom line, not happy, healthy, creative bodies sharing resources. At our core we value each body, each human, human differences and interconnectedness. We value working within systems of reciprocal exchange."
- Jmy James Kidd, Pieter Performance Space (2016 CEDF grantee for investments to increase rental income)
"We set out to create a culinary hub to assist and provide services to women and women identified people of color based in, and reaching beyond the eastside of Los Angeles. Our audience included artists, food bloggers, chefs, cooks, food photographers, recipe book authors, street vendors, restaurateurs, and culinarians to name a few. This broad range of women involved in the food world expanded our vision of the future of food and women in LA, which challenged us to expand our capacities in providing inclusive, diverse, hands-on, and skilled services. In this respect, AOKT grew as a safe space, resource giving, and community network."
- Jocelyn Ramirez, Across Our Kitchen Tables (2017 CEDF grantees to create networking and skill-share opportunities for Women of Color food entrepreneurs in East L.A.)
"Congrats on all the hard work to make this pilot such a success. Our social enterprise was literally put into action only because we received the CEDF grant back in 2017. Those funds allowed me to launch the program and we're now generating nearly $40,000/year in service fee revenue. Thanks again for your support over the past couple of years!"
- Eric Ibarra, Las Fotos Project (2017 and 2018 CEDF grantee for a photography social enterprise that provides teenage girls on-the-job training for their future careers in the creative economy)
---
---
REPORTS FOR THE FIELD
Reflections on Creative Economic Development (or, What Social Artrepreneurs Need Now) by Allison Wyper (May 15, 2018)
---
GRANTEE NEWS
Todo Verde
In 2021, Jocelyn Ramirez & Todo Verde were awarded a contract to sell and curate food and drink at Los Angeles County's Ford Amphitheatre.
POT
Echo Park pottery studio POT opened an online store called the POTSHOP featuring one of a kind housewares created by their members. (Our favorite is this Dismantle White Supremacy Mug!)
The Rational Dress Society + Color Coded
The Rational Dress Society recently collaborated with fellow grantees Color Coded on a total overhaul of the JUMPSUIT website, where customers can purchase their signature gender-neutral garment. Color Coded is a POC-only transformative space that centers historically-excluded people in the co-teaching, co-creation, and co-ownership of new technologies. RDS also announced a new collaboration with Sew Co., a socially responsible manufacturer and part of a network of textile firms collaborating to regrow domestic manufacturing, support communities, and create better livelihoods for textile workers.
Las Fotos Project
In May 2019, LFP announced the expansion of their social enterprise program, formerly known as Hire Her, newly re-branded as C.E.O – Creative Entrepreneurship Opportunities  The program provides teen girls with valuable entrepreneurial skills for future careers in the creative industry such as event photography, commercial photography and pre/post production. Clients include Ciclavia, Los Angeles Chamber of Commerce, AARP California, Red Bull, Food Policy Council, College Track, LACMA, and the Autry Museum. Learn more at http://lasfotosproject.org/ceo/.
ProjectQ
In early 2019, ProjectQ took over their Chinatown space, where they now operate as a Salon & Community Center! Check them out with other LGBTQ businesses, like Jovan Wolf Leather and Sharpe Suiting, in LA's Chinatown, 818 N. Spring St. #101. Here's a great feature by LAist.
Amazing Studios
Issac Ryan Brown, co-star of Disney Channel's hit comedy series Raven's Home and talented singer and rap artist, premieres his latest single "B.F.F." The video was filmed with staff and students from Amazing Studios, with development and editing done at the Studio. Get a peek behind the scenes. The bubbly, pop song produced by K Young and Lytebright is a teenage summer anthem for best friends. Malcolm Roberson directed the music video that features Issac and 12-year-old fashion designer Kheris Rogers. Amazing Studios is a program of Amazing Grace Conservatory.
Across Our Kitchen Tables
AOKT co-founder and owner of Todo Verde Jocelyn Ramirez shared the story of her plant-based food business bringing healthy, delicious, heritage foods and beverages to her East Los Angeles community. Watch the LatiNation clip here.
Narrated Objects
Narrated Objects' second print publication, Dear Seller: Real Estate Love Letters from Los Angeles, was featured on KCRW's Design and Architecture. Listen here.
Public Matters
"Greetings from East L.A." is an art, design, and urban planning project with 11th-grade students at the East Los Angeles Renaissance Academy at Esteban E. Torres High School. Initiated by Public Matters with Dept of Places in 2016, the project explores, documents and interprets the value that the students assign to people and places in East L.A. while responding to representation and equity.
Rational Dress Society
Rational Dress Society's JUMPSUIT ("the only garment you'll ever need to own") was featured in The Paris Review. The unisex garment is a wearable article of clothing for all body types that also functions as an art project critiquing consumerism. Read more at jumpsu.it.
Narrated Objects
Narrated Objects launched their first publication: We Heart P-22, a coloring and activity book celebrating LA's most famous mountain lion. Watch for their popup at Los Angeles Contemporary Exhibitions in December 2017!
Eastside Entrepreneurs
Cha Cha Covers, an enterprise founded by Ana Guajardo of Eastside Entrepreneurs Collaborative Studio, is part of LA Original, a pilot program of the Mayor's Fund for Los Angeles in partnership with the Mayor's Office of Economic Development that celebrates LA as the creative capital of the world.
ProjectQ
ProjectQ's Hairstream project was featured in Vogue for Pride 2017. Previously, Madin Lopez was featured on MTV's Transformation. Lopez is a hairstylist who believes a full makeover is one of the best ways for a trans or gender non-conforming person to feel comfortable in their body. Throughout Transformation, Lopez offers free hairstyling and mentoring to the six subjects. 
Big City Forum
Lucy Cook of Confetti Confidential, one of the participating design collectives in Big City Forum's Talleres Publicos in Pacoima, as featured in inform.design, a CalArts publication.
---
If you have additional questions about this initiative or current CCI grant programs, contact us at grants@cciarts.org, or call (213) 687-8577.
---
The Creative Economic Development Fund was supported by: