Upcoming Workshops
CCI Response to COVID-19
CCI is carefully monitoring the rapidly evolving status of the coronavirus (COVID-19) and are following the recommended practices prescribed by the Centers for Disease Control and Prevention (CDC) to take every precaution to prioritize community well-being. At this time, we are temporarily postponing our in-person workshops in favor of live and recorded webinars. 
Please do not hesitate to email us at  if you have questions about participating in our programs.
---

HOW MUCH?
YOUR ART, YOUR VALUE, YOUR PRICE 
Led by art business consultant Jeremiah Olayinka Ojo, a professional with expertise in artist studio management, gallery and project management, and art market strategy, this online workshop is designed to demystify common misnomers on pricing artwork. Jeremiah will help participants understand and define artistic production and conceptual value through pricing.
Archived Webinars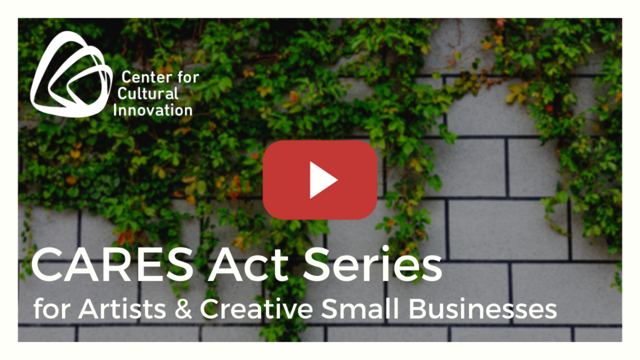 CARES Act Series on YouTube
Led by Jill James (SiF Industries) and Claire Van Holland (the CV Ledger, Inc.), these webinars from April-June 2020 walk artists and creative small business owners through the PPP, EIDL, and other aspects of the CARES Act, and provide ideas for keeping your business afloat during the pandemic. (Check the video descriptions for links to slides and other resources.)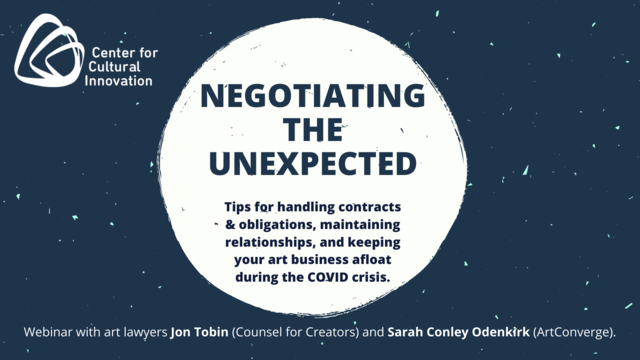 Negotiating the Unexpected
Tips for handling contracts and obligations, maintaining relationships, and keeping your art business afloat during the COVID crisis. A webinar with art lawyers Jon Tobin (Counsel for Creators) and Sarah Conley Odenkirk (ArtConverge) recorded April 21, 2020. Video recording available.
In 1-hour, this video provides an overview of emerging technologies including cryptocurrency, blockchain, fractionalized interests, and smart contracts in an art business context. This webinar was led by art lawyer Sarah Conley Odenkirk (ArtConverge) on December 4, 2019.
Find Funding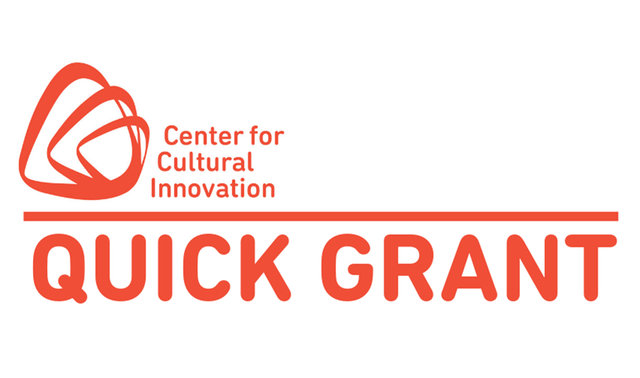 Quick Grant Program
The Quick Grant Program provides reimbursement funds to San Francisco Bay Area nonprofit organizations and individual artists in the State of California for professional development activities. Apply by the 15th of each month.

California Art Leaders Investment (CALI) Accelerator Program
CALI Accelerator (formerly Next Gen Arts) grants provide scholarships up to $1,000 to nonprofit arts administrators, with a priority for those whose perspectives are not well represented by the conventional arts and culture field, to practice their leadership vision and voice. Apply by the 15th of each month.
---
The 2nd edition of Business of Art: An Artist's Guide to Profitable Self-Employment provides you with key knowledge, tools and resources to help you advance your art practice.