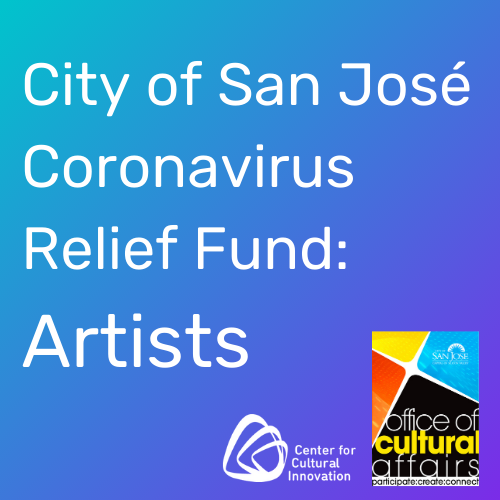 The City of San José Coronavirus Relief Fund: Artists is Closed. If you applied, you will be notified of your status October 16, 2020.
Aceptamos aplicaciones para el Fondo de Alivio para el Coronavirus de la Ciudad de San Jose: Artistas. La aplicación es breve y fácil. Por favor busque a un amigo/a/x que le pueda ayudar a traducir y entregar su aplicación para la fecha límite de 29 de septiembre
Chúng tôi hoan nghênh các đơn ghi danh cho Quỹ Cứu Trợ San Jose dành cho những cá nhân hoạt động trong lãnh vực nghệ thuật. Đơn rất ngắn gọn và đơn giản. Xin quý vị vui lòng tìm một người bạn có thể giúp thông dịch và gửi đơn xin trước ngày 29 tháng 9.
The City of San José Coronavirus Relief Fund: Artists is a partnership between the City of San José Office of Cultural Affairs and the Center for Cultural Innovation (CCI). The City of San José Coronavirus Relief Fund: Artists (San José Fund) is distributing $208,000 in the form of grants up to $2,000 to help mitigate COVID-19 related financial impacts suffered by individual artists who are the backbone to the City's diversity and vibrancy of cultural identity and expression. San José Fund is a reimbursement-based fund made possible by federal funding resulting from the United States CARES Act, which was allocated by the State of California to the City of San José.
The San José Fund is a response to the financial impact on professional artists caused by the COVID-19 economic shutdown. The large-scale shutdown has been needed to slow the spread of COVID-19, and it has continued to put the entire arts sector on hold. Artists' ability to earn income to pay necessary expenses has been disrupted, and their ability to survive financially is threatened.
Given the widespread financial consequences of the COVID-19 economic shutdown, the San José Fund welcomes additional support. Please contact Laura Poppiti, CCI Grants Program Director, at laura@cciarts.org if you would like to help with a tax-deductible contribution.
ELIGIBILITY
Must be a freelance artist or sole proprietor of an arts business. This includes fine artists, including literary, visual, and performing artists; musicians; teaching artists; culture bearers; art-making enterprises such as jewelry makers; artist members of collective-based or cooperative creative social enterprises; and specialized artist workers (e.g., lighting or sound designers, fabricators).

Demonstrate Proof: Provide documentation (a website or upload) that demonstrates applicant's professional role in arts and culture. 

Must be a current, full-time resident of San José.

Demonstrate Proof: Must upload ONE proof of current residency. Proof is demonstrated by including a legible photo of a current state driver's license or ID; or most-recent utility bill, health insurance statement, bank statement, or other document. The name and address must match that used in the application form.

Must make the majority (50%+) of income from the arts sector—any combination of sales of art, freelance work, and/or employment.
Must provide a detailed explanation of financial losses, or incurred expenses due to COVID-19. While documentation of these losses or expenses will not be required initially, it may be required in the future.

TIP: Before you begin your application, we suggest you make a list of eligible expenses (including the Date, Expense Activity [e.g., rent, car payment, hospital bill, Zoom  subscription], and Amount) for which you are seeking reimbursement.

Can only apply once.
GUIDELINES
Application Deadline and Notification
The application cycle opens Tuesday, September 15 at 9 am PDT.
The application cycle closes Tuesday, September 29 at 5 pm PDT.
All applicants will be notified of their status Friday, October 16 by 5 pm PDT.  

The City of San José Coronavirus Relief Fund: Artists online application can be accessed at: https://ccigrants.gosmart.org/.
Applications will be accepted in English only. Applications must be submitted online through CCI's GO Smart™ system. All new applicants MUST register for an account with the GO Smart™ system BEFORE they will be able to access the grant application.
Contact 
grants@cciarts.org
 with the subject line "San José Fund Tech Support" for assistance. We will try to respond as quickly as possible, but we may need a full business day to respond. 
CONTACT US FOR SUPPORT!