Benefits for Artists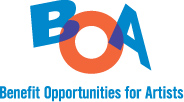 Life is hard enough for Artists.  Let BOA make it a little easier!

Benefit Opportunities for Artists, or BOA, was developed to provide access to discounted products and services and other benefits provided by businesses that support individual artists and a creative economy.
Cost is free, but you must register online to ensure that we have accurate information on file about the CCI affiliate group.  Your information will not be traded or sold, and you can opt out at any time.
To take advantage of any of the benefits and services listed below, REGISTER HERE.

Budget Rent a Car
Need wheels to deliver your sculpture to Secausus? Fearful of a flat when you drive the flats to Flatbush? Rent the ride you need at Budget, where BOA members can get up to 25% off daily, weekly and weekend rates on all rentals throughout the United States.

Avis Rent a Car
Avis is now a supplier of rental car services for members of Benefit Opportunities for Artists (BOA). For personal and /or business rentals, it is very important that you always ask for the best rate available. BOA members can enjoy special member rates, considerable value-added discounts and the latest technology, products, and services to make your car rental experience better than ever. Some of Avis' programs include: Complimentary Preferred Service, Where 2 GPS-State-of-the-art-GPS System, and much more.

Get Fit & Save with Global Fit
With regular exercise, you'll have more energy, a trimmer waist and less stress. Our GlobalFit program helps make that affordable.
Through GlobalFit, you and your family have below-retail access to gyms nationwide:
24 Hour Fitness, Bally, Curves, and Anytime Fitness, plus 1000s more regional chains and local favorites
GlobalFit's Lowest-Price Guarantee – if any participating gym offers a lower price in writing, GlobalFit will beat that rate by 5%.*
Free Guest Passesto try most gyms before deciding
GlobalFit offers a range of membership options. Whether you're a committed fitness buff or just 'testing the waters,' GlobalFit has a membership for you. Get Started Today!

 

Pennywise
Discount Office Supplies and Equipment
You need paper for programs, ink for invitations and paperclips for press kits! Don't pay full price and drive all over town to gather up the materials you need to make your arts business run smoothly! Penny-Wise Office Products offers BOA members up to 36% off retail prices for major brand office supplies and equipment and free overnight delivery on most orders. BOA members also receive notice of frequent specials and sales.

Manion/Bell Insurance
Planning a public exhibition, performance or special arts event? Artists in California can now obtain Single Event Liability Insurance from specialists at Manion/Bell Insurance Associates, a full service insurance agency that understands the unique insurance needs of the arts and cultural community. Whether you need a comprehensive annual policy package or coverage for a one-time special event, Manion/Bell is ready to serve you!