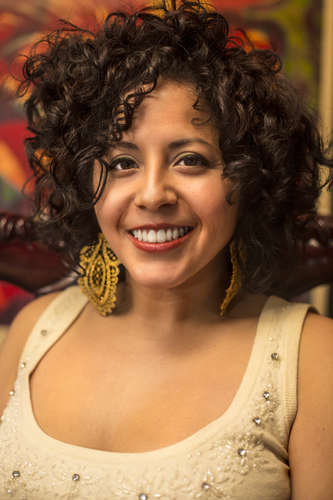 Favianna Rodriguez
"Artists are central, not peripheral, to social change." - Jeff Chang 
This past April, the Center for Cultural Innovation partnered with CultureStrike and the East Bay Community Foundation to offer the first ever Business of Art Workshop specifically for undocumented artists. The 2-day bootcamp hosted 14 emerging artists and provided  guidance for navigating the arts economy, with discussions of the unique challenges facing them as undocumented entrepreneurs. Given the current stalemate around federal immigration reform, and the increasing numbers of migrant artists under age 30 who are embarking on careers, this workshop was well-timed and much-needed. 
This pilot project touches upon an urgent question we must ask ourselves in the art world: how do we better engage, serve, and resource migrant communities at a time when unjust laws are virtually creating a sub-class group of people? If the arts is a space where societies can transform relationships and beliefs, then shouldn't it also be a space where there is opportunity for ALL artists?  With more than 11.5 million undocumented migrants living in the United States - many of them our peers, our fellow artists, our mothers and fathers, our siblings, co-workers, neighbors, and friends - supporting migrant artists should be a priority, especially in a state like California. 
As a professional artist and the daughter of migrants, I co-founded CultureStrike in 2010 because I believe in the power of art. Arizona had just passed the extremely anti-migrant law SB-1070, and a small group of writers, musicians, and visual artists gathered to discuss the important role that we play in building the public will for a more just society. Outraged at the incoherence and inhumanity in immigration policy, we set out to organize fellow creatives to launch an arts organization that could change hearts and minds around migration and broaden attention for migrant artists.   
After all, as we looked at every artistic discipline - from music to theater, literature to television - we noted the expansive ways in which migrants and refugees have shaped American culture. And yet the nightly news and policy debates were dominated with sentiments that dehumanized, isolated, and criminalized migrants. As artists, attuned to how culture can affect the subconscious, we saw the current reality of migrants as a failure of imagination as much as a dominance of hateful narratives. The United States now has a large-scale human rights crisis. The deportation of more than 1,100 people each day is dividing families and causing great harm. CultureStrike has grown from that small gathering of artists into a national multi-program organization because so many organizations and people have joined us in asking: How can the arts alleviate this suffering? How can art be not just a reflection of reality, in the words of Bertolt Brecht, but also "a hammer with which to shape [it]"? 
Artists can be controversial and bold, and can challenge systems at the most fundamental levels. Artists can find the emotion in a complex political problem and build compassion, empathy, and respect—a first step in gaining sympathetic attention and allies. This is why we invest in artists who wish to challenge current narratives on migration and social justice. But while arts can be the means for migrants to express their stories and selves, undocumented artists are often ineligible for public arts funding or grant opportunities. Just as the higher education sector has made great strides in developing scholarship programs for undocumented youth, we can do the same in the arts. If the current arts infrastructure has not made room for migrant artists, then it is up to us to kick the doors down and demand opportunity for all. Every human being has the right to articulate their best self and create our culture. For our society to heal from xenophobia and racism, we need more voices, visuals and visions from migrant artists. 
The number of undocumented artists ready and eager to hone their practice has created a great demand for opportunities, with not enough supply. We tested this hypothesis in early 2013, when we began a pilot literary program for undocumented writers - UndocuWriting.  Within days, we had more than 125 applicants from across the country for only 10 spots. This should not be a surprise. Of 11.5 million undocumented migrants, we can expect thousands wish to pursue creative careers, just as others seek to work in science, or any other field. This year, after learning more about this need, the East Bay Community Foundation graciously took a risk, and offered to pilot an arts bootcamp in collaboration with CCI, and thus we set out on this great experiment. 
It's important to note the endless benefit we can gain by investing in artists and in their ideas. I am myself a professional artist, and an alumni of CCI's 2005 Business of Art Program, as well as a grantee of the artist fund. Through this program and through the East Bay Community Foundation's Artist Commission fund, I was able to secure support, resources, and development opportunities to refine my artistic business model and to literally dream big with my ideas. When I witnessed the devastation happening in my community as a result of failed immigration policy, I set out to address this via art making and artistic empowerment. The investment in me enabled me to open doors for other artists. 
Since launching in late 2010, CultureStrike has been developing mechanisms to serve migrant artists. We coach artists in our network through individual and group projects, and help deploy them to community frontlines where they are most needed. We also develop content that can be used by pro-migrant advocacy organizations, because our communities are in urgent need of policy change. What drives us is the desire to make the arts accessible to ALL, papers or none. I encourage all of you to think through how we can break the cycle of inequality and lack of access in the art world to serve migrant communities. All it takes is some risk, innovation and disruption. The humane and just treatment of migrants is an imperative for the future of a vibrant nation. If the infrastructure of our Arts field can be more open to those blocked out by unjust policies, it will enrich our entire creative fabric.
______________________________________________________________________________________________
Favianna Rodriguez is a transnational interdisciplinary artist and cultural organizer. Her art and collaborative projects deal with migration, global politics, economic injustice, patriarchy, and interdependence.
CultureStrike, co-founded by Rodriguez, is a national organization dedicated to generating visionary artistic content and enabling artists to be change-makers, in order to transform culture in the United States to embrace social justice, particularly concerning migrant rights. They work towards a society that embraces art and culture as fundamental, that values equity and justice, and that views migration and movement as a natural part of being human. For more information on the work of CultureStrike, visit: www.culturestrike.net.