CCI Resources for California Artists
May 25, 2022, 11:30 AM - 1:00 PM
Topic: Fundraising
Provider/Presenting Organization: Center for Cultural Innovation
Location: Online Classes/Webinars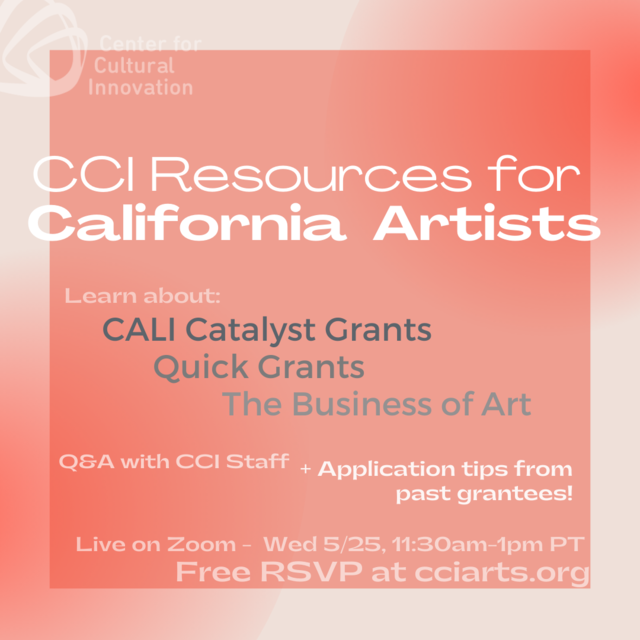 Please join CCI staff and special guests for an overview of grants and trainings available to arts and culture workers in California, including
CALI Catalyst Grants
,
Quick Grants
, and 
The Business of Art
 boot camp and
workbook
.
We'll answer your questions, and past grantees will share their grant-supported projects & application tips.
Guest Speakers: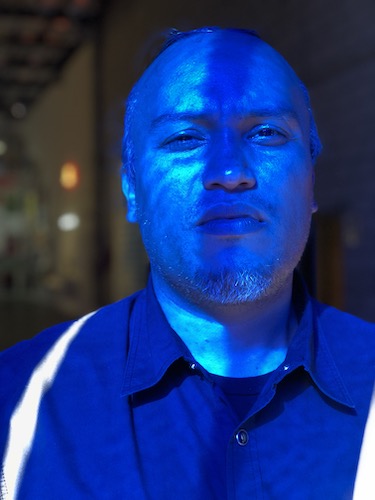 Joel Garcia
(Huichol) is an Indigenous artist and cultural organizer that uses Indigenous-based frameworks to center those most impacted, and arts-based strategies such as printmaking, installations, creative action, and altar-making to raise awareness of issues facing underserved communities, youth, and other targeted populations. In various roles, he has worked with Indigenous communities across borders in support of issues of land, access, and self-determination. His work explores healing and reconciliation, as well as memory and place. He previously served as Co-Director at Self Help Graphics & Art ('10-'18) a nationally acclaimed arts organization and is the co-founder of Meztli Projects, an Indigenous-based arts & culture collaborative. He is a current fellow of Monument Lab's ReGeneration project and guest contributor at Zocalo Public Square..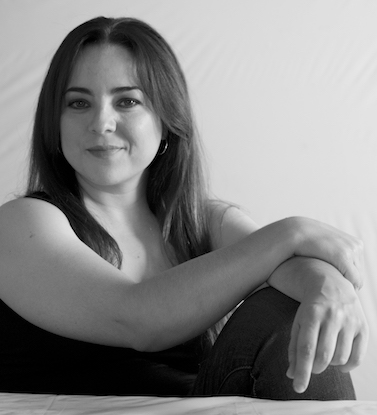 Monica Leal Cueva is an artist and photographer based in Los Angeles, CA. Monica worked for 10 years assisting Tom Wudl in his painting practice. She currently owns and operates Tom Wudl Studio LLC, a private instruction studio in the Arts District. She also manages MLCStudio which provides professional services to artists like artwork photography, website design, social media setup and art assistance. Her current artistic practice consists of digital compositions generated from photography of travels to desert ghost towns and small farms all over Southern California.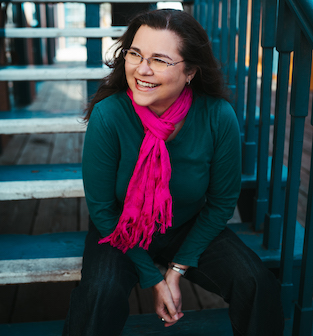 Patricia Zehentmayr
is a songwriter, bookwriter, and lyricist. As a songwriter, Patricia has collaborated with writers in a number of musical genres; from Rosie Flores (Queen of Rockabilly) to John Axelrod (Artistic and Musical Director of the Royal Symphony of Sevilla). Her most recent musical theater piece, The Path to Catherine, tells the true backstory of the teenage girl who one day become Catherine the Great, and the two women who shaped her. Other musical theater works include Wanting Miss Julie, The New York Society for the Suppression of Vice, and Madwomen. Patricia's pop music works are licensed by A Matter of Sync, World Fusion Music Productions and Crucial Music. She is a member of the Dramatists Guild, SAG-AFTRA, Songwriters of North America, New Musicals, Inc., and Society of Composers and Lyricists.
patriciaz.com
---
Date: Wednesday, May 25, 2022

Time: 11:30am-1:00pm PT
Recording: This webinar will be recorded. It will be archived (with closed captions) on the CCI Arts YouTube channel within one week of the presentation, however live attendance is encouraged as we will be taking questions during the event.
Registration: Free with RSVP
---
This workshop is made possible by: