with Rhiannon Evans MacFadyen
In conjunction with the exhibition Love, Aswang, Center for Cultural Innovation and Southern Exposure present a workshop with Rhiannon Evans MacFadyen.
We learned how to "behave" and to survive through daily colonized conditioning. It's no wonder we feel overwhelmed when we think of decolonizing our society *right now*. Cultural colonization takes practice: time and repetition. So does decolonization. Let's get started with some daily practices—small-scale changes that make big shifts—and practice those practices together.
This workshop centers intersectionality, complexity, and productive discomfort. Come with all your hats and all your selves. Come ready to be open, respectful, and reasonable. Come ready to sit in the messy space of learning. This workshop is only two hours. We ain't changin' the world. We're just starting a new practice.
This workshop is open to everyone, which also means a variety of ability and needs. This session includes sitting, standing, movement in a room, touching and holding hands, eye contact, reading, writing, listening, speaking, and is conducted in English. When you register, please let us know if you have any concerns about these activities, or other restrictions you may have, so that we can create variations that make space for you to be able to fully participate.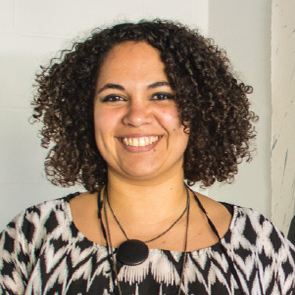 About Rhiannon Evans MacFadyen:
I tug at the threads that connect our human experiences through open exchange and collaboration. I am a curator, consultant, facilitator, and project-based artist, born and based in San Francisco, with 15+ years experience in the performing and visual arts. I am moved by "productive discomfort" and a champion for continuous incremental improvement. My curatorial focus is on projects that push formal and contextual boundaries and poke at imperialist formats. My cross-discipline personal work engages symbols, identity, communication, and the unseen. I use transparent facilitation, responsiveness, inquiry, and concrete planning in my organizing and consulting work. I wear lots of hats, all at the same time—it's my style. Founder of A Simple Collective and Black & White Projects and Director of Emerging Arts Professionals SFBA, I am passionate about equity, experimentation, and independence in the arts and offer constructive, flexible consulting services to contemporary artists, entrepreneurs and small institutions, and burgeoning collectors.
About Love, Aswang:
Love, Aswang is a group exhibition at Southern Exposure May 31 through June 29, curated by Kimberley Acebo Arteche. The exhibition features work by Anh Bui, Monica Magtoto, Renae Moua, Aay Preston-Myint, Nisha Sethi, Javier Stell Fresquez, Jess Wu, and examines healing and decolonial practices by Bay Area female, femme, and non-binary identifying artists of color. This project takes its title from a Filipinx shapeshifting mythical creature that takes the form of a woman by day and a predatory animal by night. 
> READ MORE
About our Hosts:

Southern Exposure (SoEx) is an artist-centered non-profit organization committed to supporting visual artists. Through our extensive and innovative programming, SoEx strives to experiment, collaborate and further educate while providing an extraordinary resource center and forum for Bay Area and national artists and youth in our Mission District space and off-site, in the public realm.
An active presence in the Bay Area since 1974, SoEx is continually evolving in response to the needs of artists and the community while engaging the public in artists' work. Central to our mission is to remain the most accessible space for visual artists to produce and present new work, learn, and connect. SoEx provides visual artists with the tools and resources they need to experiment in an open and supportive environment. We also work to advocate to new, diverse audiences and build an ever-growing community of enthusiasts and supporters of the visual arts.
Generous support for Southern Exposure is provided by the David Cunningham Memorial Bequest, the Fleishhacker Foundation, Grants for the Arts/San Francisco Hotel Tax Fund, the Gelfand Family Foundation, the Bill Graham Memorial Foundation, the National Endowment for the Arts, the Nicholson Family Foundation, the San Francisco Arts Commission Grant Program, the Violet World Foundation, The Andy Warhol Foundation for the Visual Arts, the Zellerbach Family Foundation, and Southern Exposure's members and donors.
Workshop Details: