CCI - Collective & Cooperative Business Models
August 20, 2018, 6:30 - 9:30 PM
Topic: Career Development: Multiple Topic Business Training
Provider/Presenting Organization: Center for Cultural Innovation
Location: Los Angeles Area
Collective & Cooperative Business Models
with Irina Contreras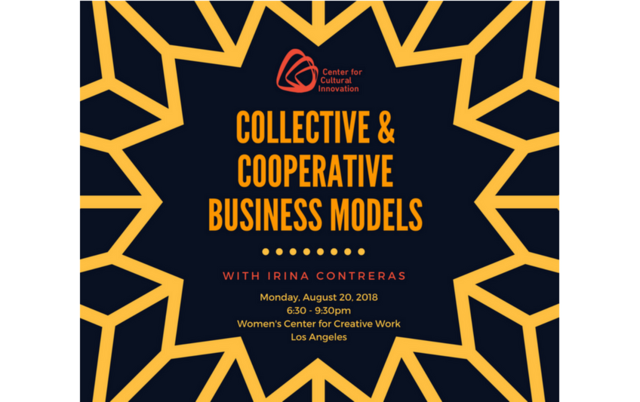 How do you organize and execute a collaborative business plan? What are the steps that artists and cultural producers need to know about? Crafting a plan and generating funds for cooperative business plans can be mystifying. Fortunately, Los Angeles has a rich history of artist based and run collectives and cooperatives to learn from! This workshop will provide examples of past and current long and short term projects, houses, cooperative spaces, businesses and pop-ups. 

This workshop centers artists that are socially engaged, people who are fluent or interested in horizontal and worker owned models as well as queer, BIPOC (Black, Indigenous and People of Color) and feminist models. Participants will engage in hands-on exercises, group and self reflection, and come away with an idea for a cooperative business plan or model. Handouts will be provided. 

Who is this workshop for?

This workshop is for people who self identify as artists or cultural producers and are interested in gaining skills for further sales, grant and/or collaborative opportunities. Likewise, you might be an entrepreneur or social entrepreneur interested in running your business in a collective or cooperative way. Regardless, we will consider the many options that exist beyond the 501(c)3 or LLC model.

What will the workshop be like?

This 3-hour workshop will be active, invigorating and fun. We will go back and forth between working in small groups and coming together as a larger group. Be ready to brainstorm, move around, and think big with fellow workshop participants. You will leave with an idea, pitch, and plan, as well as handouts for further learning. You will also leave with new understanding of the many models to choose from for cooperative-based ideas and plans.

What are cooperatives/collective businesses?

There are currently 29,000 cooperatives in the world right now sustaining 2 million jobs and 3 trillion dollars worth of assets. These business entities exist across all types of sectors from retail, arts, agricultural to education and more. We will go over different kinds of projects and collaborations, including a retail/design/self-defense duo, and groups blending health and wellness with art, catering and experiential forms. We will also brainstorm the many new opportunities available to creative and social entrepeneurs. This workshop will NOT cover: banking, detailed accounting practices, branding or logos etc.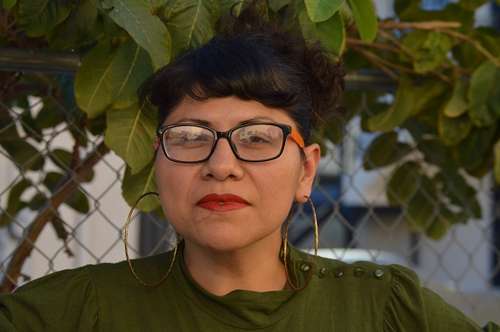 About Irina
Irina Contreras is a Los Angeles born and bred interdisciplinary artist, cultural producer and consultant. She has worked for over ten years at the intersections of the arts, education and radical pedagogy within institutional and community based platforms. She is the founder of the 12 year-old project The Miracle Bookmobile, and has pursued an art practice alongside her lifelong dedication to social and restorative justice practices. She earned her dual Master's degree at California College of the Arts with an MFA in Social Practice and MA in Visual and Critical Studies. Additionally, she has done coursework in UCLA's Social Research, Urban Planning and Public Policy Department as well as having worked for the San Francisco's Public Health Department for two years.  In 2006, Irina co-founded Night Kitchen as a women owned and run catering, healthful and wellness focused project. Eventually Night Kitchen expanded to include and center QTPOC and WOC centered affordable and sliding scale consulting, leadership development and production. Since then, Irina has focused on expanding her knowledge base within alternative economic structures including giving circles, fundraising and more. Her knowledge of cooperative and collective arts, business structures and strategizing comes from years of love and work for the various communities she has been a part of. She has strong roots in Oakland, where she has lived off and on since 1997. When Irina isn't busy working on projects, she can be seen taking long walks throughout LA at sunset with her six month old bebe in tow. 
Workshop Details: 
Date: Monday, August 20, 2018
Time: 6:30-9:30pm
Location: Women's Center for Creative Work, 2425 Glover Place, Los Angeles CA 90031
Cost: $40 before August 3, 2018, $50 after August 3, 2018
To enroll in a workshop, you must first become a member of CCI and create a user name and password. CCI membership is free of charge and open to the public.
Cancellation Policy: Full refund on registration fees up to 48 hours prior to workshop date. Fees non-refundable after that date.
Center for Cultural Innovation takes photos and videos at our activities for non-commercial, archival, and promotional purposes. By attending this workshop, you are acknowledging that your likeness may appear on our website, social media platforms, ephemera and publications, and/or archives. If you have any objections, please let us know, and thank you.
This workshop is made possible with support from:

***IMPORTANT REGISTRATION INSTRUCTIONS*** (DON'T SKIP STEPS 4-6!)
Click the green REGISTER NOW button, below.

Enter the required contact information.

Click SUBMIT.

Review your Shopping Cart, and add additional registrants (if desired).
Click CHECKOUT. 
Enter your billing information and click CONTINUE. 

When you see your Receipt, you have successfully registered!