CCI - Street Dance Activism (Leimert Park)
September 2, 2017, 3:00 - 5:00 PM
Topic: Advocacy
Provider/Presenting Organization: Center for Cultural Innovation
Location: Los Angeles Area
ACTIVATING ARTISTS: Street Dance Activism  
with Shamell Bell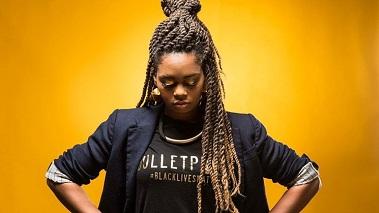 This workshop provides foundational tools for the use of street dance in demonstrations as a form of self-care, resistance, and team building. Shamell Bell is a core organizer and Arts & Culture liaison with the Black Lives Matter network. Her workshop will demonstrate the possibility for performance to disrupt social, economic, and historical paradigms and present street dance as an alternative strategy for radical social change. We will explore the use of these dances struggles for liberation that traces them to African diasporic traditions and war dances. During the workshop, dancers will learn basic hip-hop moves, but will also engage in team-building activities as they break into dance battle/community organizing groups. 
Shamell Bell is a mother, community organizer, choreographer and PhD student in Culture and Performance at UCLA's World Arts and Cultures/Dance. Bell received her M.A. in Ethnic Studies from UC San Diego and B.A. with Honors in American Studies and Ethnicity specializing in African American Studies at the University of Southern California. Involved in the original formations of the #blacklivesmatter movement, she is a core organizer with Black Lives Matter Los Angeles alongside prominent organizers Patrisse Cullors and Professor Melina Abdullah. Her activism focuses on using her artistic talent and knowledge of arts and culture for the movement. She is also a member of Blackout 4 Human RIghts with notable directors Ryan Coogler, Ava Duvernay, Jesse Williams, among others, serving as a community organizer liaison assisting with campaigns such as #Justice4Flint and #iKneelwithColin.
She also co-founded, the Black Infinity Complex, a liaison organization building coalitions and an united front between those fighting against Black premature death and state-sanctioned violence. The Black Infinity Complex launched a freedom school based off of Fred Moten and Stefano Harvey's "The Undercommons: Fugitive Planning & Black Study" that received rave reviews in Robin DG Kelley's "Black Study: Black Struggle" in the Boston Review (March 2016).
Shamell's work on what she refers to as "street dance activism" situates dance as political action from her perspectives as a dance and performance scholar, a dancer, and an active member and choreographer for the Black Lives Matter movement. Shamell has a long history and experience with street dance movements and as a dancer in David LaChapelle's documentary "Rize," in addition to featured roles in various music videos, award shows, and tours. She also conducted original research with the Ranger$, a well-known dance crew in the Jerkin' movement, for her undergraduate senior thesis. Shamell's doctoral research currently extends this work with a performance studies lens and historio-geographical anaylsis of street dance movements in South Central Los Angeles. Her passion is to create a dialogue between the street dance community, activist community, and the academy that includes the street dancer's actual presence at academic institutions in the form of dancing, speaking, teaching, and writing. When she is not occupying the police station or leading chants at demonstrations with BLMLA, she can be found playing with her 6 year old son, Seijani aka "Johnnie", and even including him in peaceful demonstrations.
Date: Saturday, September 2, 2017
Time: 3:00-5:00pm
Location: KAOS Network, 4343 Leimert Blvd, Leimert Park, Los Angeles, CA 90008
Cost: Free
***IMPORTANT REGISTRATION INSTRUCTIONS*** (DON'T SKIP STEPS 4-6!)
Click the green REGISTER NOW button, below.

Enter the required contact and (confidential) demographic information.

Click SUBMIT.

Review your Shopping Cart, and add additional guests (if desired).
Click CHECKOUT. 
Enter your billing information and click CONTINUE. (Note: you will not be charged for this event.)

When you see your Receipt, you have successfully registered!
Need to cancel or change your reservation? Email allison@cciarts.org.
Center for Cultural Innovation takes photos and videos at our activities for non-commercial, archival, and promotional purposes. By attending this workshop, you are acknowledging that your likeness may appear on our website, social media platforms, ephemera and publications, and/or archives. If you have any objections, please let us know, and thank you.



(photo by Shane Lopes, above)
Made possible by: