ART>NET>WORK
June 17, 2017, 1:00 - 4:00 PM
Topic: Networking/Field Learning
Provider/Presenting Organization: Center for Cultural Innovation
Location: Los Angeles Area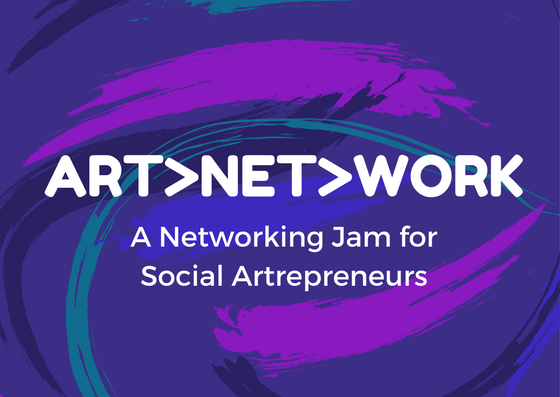 ART>NET>WORK:
A Networking Jam for Social Artrepreneurs
Center for Cultural Innovation (CCI) invites you to ART>NET>WORK, a "deep networking" event for artists working as creative social entrepreneurs, whose work supports underdeveloped or under-resourced communities in Los Angeles.
Share your story, discover how others are innovating, build alliances and partnerships in the emerging community of L.A. social artrepreneurs.
Learn arts-based tools to help you and your team articulate your values and pitch your project or cause in a meaningful way. Generative structures led by artists/facilitators Dr. Giavanni Washington (RhythmQuest) and Allison Wyper (CCI/Rhizomatic Arts) will activate collective knowledge and facilitate community building. Structured group activities will be followed by a social hour with refreshments hosted by CCI.

This event is free, space is limited, and registration is required. Register today!
Date & Time:
Saturday, June 17, 2017
1:00-4:00pm
Location:
Maker City LA/The Reef
1933 S. Broadway
Suite 1148
Los Angeles, CA 90007

Cost:
Free
***IMPORTANT REGISTRATION INSTRUCTIONS*** (Don't skip steps 4-6!)
Click the green REGISTER NOW button, below.

Enter the required contact and (confidential) demographic information.

Click SUBMIT.

Review your Shopping Cart, and add additional guests (if desired).

Click CHECKOUT. 

Enter your billing information and click CONTINUE. (Note: you will not be charged for this event.)

When you see your Receipt, you have successfully registered!
Need to cancel or change your reservation? Email allison@cciarts.org.
---
About the facilitators:
Dr. Giavanni Washington is an intuitive percussive healer with a special knack for recognizing the best version of you. She not only fervently believes you can reach the next level, she stands at the threshold gently supporting your migration from one plane to the next...with Ease, Delight, and Grace!!  Through her coaching and healing programs, she helps her clients Double, Triple, and 10X their income and client load...while enjoying their lives more!
Allison Wyper is Artists Knowledge Manager for CCI. She is an interdisciplinary performance artist and founder of Rhizomatic Arts, which provides professional services, training, and community for independent artists and creatives. She has taught, produced, and facilitated workshops on experimental performance, professional/creative practice, and collaborative processes at 18th Street Arts Center, Pieter Performance Space, Silverlake Independent JCC, Women's Center for Creative Work, UCLA, USC, CalArts, ArtCenter College of Design, CSUN, UCR, Space 4 Art San Diego, Emerson College, the Zero1 Biennial, the Hemispheric Institute Encuentro in Montreal, Contemporary Calgary, and the Center for Interdisciplinary Arts Studios in Perth, Australia.
---
This event is supported by: