CCI - San José Business of Art
September 14 - November 16, 2023
Topic: Career Development: Multiple Topic Business Training
Provider/Presenting Organization: City of San José Office of Cultural Affairs
Location: Online Classes/Webinars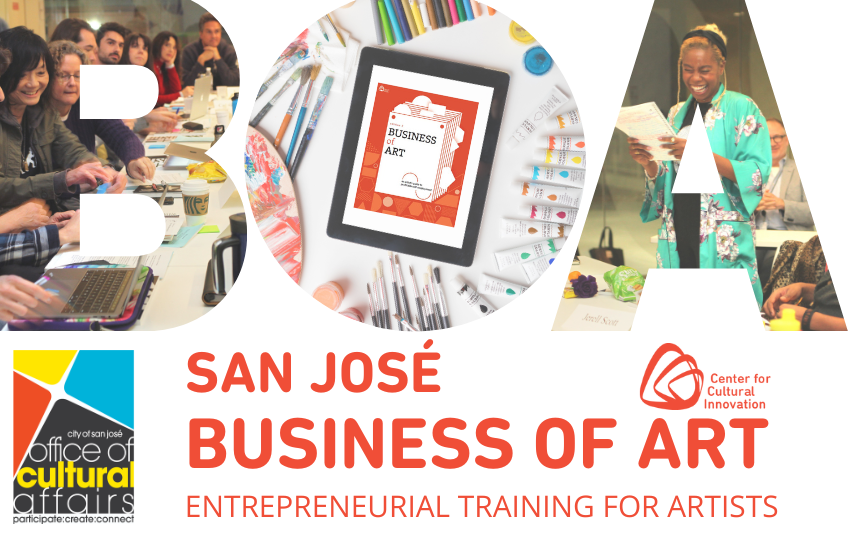 The City of San José Office of Cultural Affairs and CCI are collaborating on two opportunities for artists who live/work in San José: the Creative Economy Fund and San José Business of Art.
If you are an artist, you have an arts business. Get the entrepreneurial tools and resources you need to sustain and thrive as an artist.
Learn key concepts and strategies for marketing and self-promotion, money management, planning and project financing. Get clear on your core values and who values your work. Assess your strengths and available opportunities. Create structures to meet your goals. Meet local peers from across the creative disciplines; share knowledge and build relationships to support you as you grow. 
The Center for Cultural Innovation was founded in 2001 to promote knowledge sharing, networking and financial independence for individuals in the arts. Our signature program, the Business of Art, is designed to enhance the business skills of artists and entrepreneurs working across the creative disciplines. Taught by arts business leaders with both commercial and nonprofit experience, the Business of Art curriculum is rooted in the idea that your art business is driven by two elements: your core values and the people who value what you do. Participants learn key concepts involved in goal-setting, business models, marketing and self-promotion, money management, legal issues, strategic planning, and project financing. 
From September 14 to November 16, 2023, two dozen artists from a variety disciplines will meet online weekly for online presentations by arts and business leaders who will share innovative ideas and inspiration for sustaining your art business. CCI's publication Business of Art: An Artist's Guide to Profitable Self-Employment (3rd Edition) and an online Business of Art Toolkit will supplement the webinars with readings, worksheets, and resources to support you in your career.
In weekly online seminars you will hear from experts in the field (many of whom are also practicing artists), exchange ideas and resources with your peers, and apply what you learn to growing your own arts business. In the final session, each artist will present their art business model and celebrate their accomplishment as a cohort.
This program will prioritize arts and culture workers with strong ties to the San José/South Bay (California) arts & culture community. 25 applicants will be selected to participate at no cost.
Applications will be accepted May 31 - July 12.
Have any questions?
Register for the San José Opportunities Information Session (Creative Economy Fund + San José Business of Art), Wednesday,  June 7 at 12 p.m. PT. 
Please email jennelyn@cciarts.org with any other questions about this workshop. 
---
Schedule 
This 10-week class meets via Zoom on Thursdays from 2:00 - 5:00 PM (Pacific).
Session 1: September 14
Presenting Yourself as an Artist 
Session 2: September 21
Identifying Your Values & Setting Goals / JEREMIAH OLAYINKA OJO
Session 3: September 28
Designing Your Business Model & Building a Business Plan / AMY KWESKIN
Session 4: October 5
Promoting Yourself & Your Work / SUE BELL YANK
Session 5: October 12
Legal Issues for Artists / JONATHAN TOBIN
Session 6: October 19
Managing Your Money / AMY SMITH
Session 7: October 26
Funding Your Art Project or Business / ELAINE GROGAN-LUTTRULL
Session 8: November 2
Moving Forward with Strategic Planning / AMY KWESKIN
Session 9: November 9
Cluster Counseling / ALL PRESENTERS
Session 10: November 16
Final Presentations & Graduation! 
---
WATCH NOW: BUSINESS OF ART: PRICING EXCERPT
---
FAQ
Q: What if I know I have to miss one or more classes? Can I still apply?
A: Priority will be given to folks who can commit to attending every session, live. The relationships that develop from artist to artist are an important benefit of this workshop. That said, sometimes life happens and you may have to miss a class. 
Most of the virtual sessions will be recorded and viewable for at least 90 days. Cluster Counseling (November 9) will not be recorded. Additionally, a lot of peer learning takes place in breakout rooms, which cannot be recorded.
If you know in advance that you will have to miss a particular session, please indicate which date(s) in your application.
Q: What are the tech requirements to participate?
You will need to download the (free) Zoom app to your laptop or desktop computer. Your computer should be equipped with a camera. Headphones are optional. You should plan to call in each week from a location with a strong internet connection, where you are able to speak and listen comfortably. Workshop materials will be shared electronically via Google Drive, however you do not need a Gmail account to view those files.
Q: Will there be homework?
Weekly homework assignments will include reading chapters from the workbook and completing worksheets. We recommend allocating at least 1-2 hours each week for homework (depending on your reading speed). Homework will not be graded, but we have found that artists who commit time to working on their art businesses outside of class tend to benefit most from the workshop experience.
We highly encourage artists to meet up (virtually or in-person) to work on exercises together between classes. Given how isolated many artists are in their daily practice, we find that using the "buddy system" can help with confidence, motivation, and accountability.
Q: I am not a visual artist. Will this workshop be relevant to me and my work?
A: Yes! CCI's Business of Art curriculum is designed to be applicable for artists and creatives working in any discipline or medium. We select a diverse cohort representing visual, performing, media, literature, social practice, and multidisciplinary arts practices, and a variety of career stages.
---
PRESENTER BIOS 
Jeremiah Olayinka Ojo (Articulating Your Core Values & Setting Goals) is the Founder and Managing Director of Ilèkùn Wa, an art business advisory firm facilitating & cultivating opportunities for visual artists of African descent to create, sustain and thrive. Over the last decade, Jeremiah has become a sought after arts and culture management consultant, working internationally in artist development, gallery management, and art fair operations. His collaborative work with minority emerging contemporary artists, art institutions, corporations, and collectors has carved a pathway of connectivity for creative professionals throughout Africa & its Diaspora. Jeremiah is also the Founder of Creative Milieu, LLC, a creative professional development enterprise that sources, trains and connects creatives through an integrated online-learning and staffing agency for the Creative Economy. 
Amy Kweskin (Designing Your Business Model, and Moving Forward with Strategic Planning) is principal of Artsightful through which she provides consulting and coaching to share insights into the business of art. She specializes in developing inspiring and accomplishable strategic plans for arts organizations by working collaboratively with her clients. Amy uses arts management methodologies she developed through her work as a professor at Golden Gate University, St. Mary's College, and previously as a full-time faculty member at The Art Institute of California – San Francisco. Her strategic tools are captured in CCI's Business of Art, 3rd Edition publication. Additionally, Amy is the Director of Professional Development at Intersection for the Arts where she designs professional development training programs for artists and arts managers. Amy is pursuing a Doctor of Business Administration at Golden Gate University. She earned her Master's in Arts Administration from Golden Gate University and Bachelors' degrees in Cinema/Photography and English from Ithaca College. To bring balance into her lifework Amy is also a certified yoga instructor. Amy is a Business of Art, 3rd Edition, contributing author.
Sue Bell Yank (Promoting Yourself as an Artist) is Executive Director of Clockshop LA. She has worked in arts, entertainment, and public schools for over 15 years, including most recently as Deputy Director at 18th Street Arts Center in Santa Monica, and as Associate Director of Academic Programs at the Hammer Museum, where she formed city-wide partnerships triangulating communities, the arts, government, and schools through conversations around equity, intergenerational storytelling, and sustainability. Her expertise lies in communications strategies, community outreach and partnerships, program development, arts pedagogy, and audience development. She teaches arts education at UCLA, frequently writes about socially engaged art practice and pedagogy, and has been a Field Researcher for A Blade of Grass and Asian Arts Initiative. Sue is a Business of Art, 3rd Edition, contributing author.
Jonathan Tobin (Legal Issues for Artists) is an attorney focused on helping creative professionals and businesses use the law to succeed. A graduate of the UCLA School of Law, he studied intellectual property, business law and international law under the nation's top-ranked practitioners. While at UCLA Law he served as one of two editors-in-chief of the UCLA Journal of International Law and Foreign Affairs. Before studying law he worked for years as a designer and software developer, so he knows what it means to work in creative industries and how things actually get done. He deals with matters involving copyrights, trademarks, software, design, licensing, business, art law and contracts. Jonathan speaks and writes regularly about legal issues facing technology and creative ventures and has given talks for the American Institute of Graphic Arts, the California Community Foundation, UCLA Law, and at a variety of design and technology conferences. Admitted to practice in California and before the federal court of the Central District of California.
Amy Smith (Money Management) is a dance and theater artist, educator, and facilitator. She works to dismantle oppressive structures in non-profit organizations and other groups so that artists and low income folks can achieve collective liberation. She does this through financial well-being workshops, one-on-one work with clients giving financial advice and doing tax preparation, consulting with arts organizations, co-facilitating anti-racism sessions with co-facilitators of color, and as a dance and theater educator. Amy co-founded, co-directed, and performed with Headlong, a dance theater non-profit that transformed into a community arts organization over 25 years. She left Headlong in 2019 to pursue her freelance work. She leads financial well-being workshops through Creative Capital, Assets for Artists, and in many other settings. Amy is a Business of Art, 3rd Edition, contributing author.
Elaine Grogan-Luttrull (Funding Strategies), CPA-PFS, AFC® is the founder of Minerva Financial Arts, a company devoted to building financial literacy and empowerment in creative individuals and organizations. Her workshops and presentations have been featured nationwide. Elaine teaches at the Columbus College of Art & Design, where she served as the Department Head for Business & Entrepreneurship from 2014-2018. Previously, Elaine served as the Director of Financial Analysis for The Juilliard School and in the Transaction Advisory Services practice of Ernst & Young in New York.Elaine is the author of Arts & Numbers (Agate, B2 2013) and the forthcoming Five Questions (Agate, B2). She is based in Columbus, Ohio where she serves on the boards of the Short North Alliance, Social Ventures, and the Financial Therapy Association. Elaine is a Business of Art, 3rd Edition, contributing author.
FACILITATOR BIO
Jennelyn Bailon is Program Associate at the Center for Cultural Innovation. Working at the intersection of creativity and social change, Jennelyn is a program manager and independent curator passionate about work that is driven by empathy, community, and empowerment. Jennelyn has worked in the Education departments at institutions across the U.S. such as the J. Paul Getty Museum, Lucas Museum of Narrative Art, Museum of Modern Art and the Whitney Museum of American Art. She received her Bachelors in Art History and Interdisciplinary Visual Art at the University of Washington and completed her Masters in the History of Art and Design at Pratt Institute where her research focused on the history and intersections of socially engaged art and museum education. As an advocate and organizer within the Filipinx American creative community, her most recent contributions have been her exhibitions: Walking in the Sun at Human Resources, Los Angeles (May 2019), Trabaj/ho: Resistance of a Colonial Imprint at the Carnegie Art Museum, Studio Gallery in Oxnard, CA (October 2019 - January 2020), and Mahalaga at the Music Center in Los Angeles (October 2020). Jennelyn was born in the Philippines, raised in the Pacific Northwest and is currently based in Ventura County.
---
Participant Testimonials
"Business of Art has been one of the most crucial experiences I've encountered in my career as an emerging artist. I feel inspired, with renewed vigor, a deeper well of confidence, and an excitement to keep mining my depths!"

"It was so valuable to discuss my personal experiences in my art business and discover commonalities between myself and other artists in the workshop!"
"It was very helpful to identify where I am at with my business and to visualize where I want to go.... prior to this class I didn't really think about why people would feel moved to purchase my artwork. These exercises really helped me think about ways to appeal to people and motivate them to buy my work."
"I no longer feel like my career is a thing that's just going to happen to me. My career is a thing that I control." 
---
Unable to take this workshop?
Build your entrepreneurial skills with the Business of Art workbook!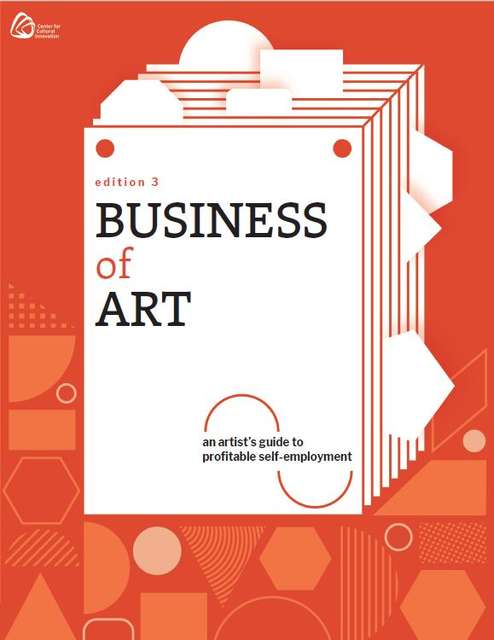 Schedule
Schedule

| Event | Date |
| --- | --- |
| CCI - San José Business of Art | 10:00 AM, September 14, 2023 |
| CCI - San José Business of Art | 10:00 AM, September 21, 2023 |
| CCI - San José Business of Art | 10:00 AM, September 28, 2023 |
| CCI - San José Business of Art | 10:00 AM, October 5, 2023 |
| CCI - San José Business of Art | 10:00 AM, October 12, 2023 |
| CCI - San José Business of Art | 10:00 AM, October 19, 2023 |
| CCI - San José Business of Art | 10:00 AM, October 26, 2023 |
| CCI - San José Business of Art | 10:00 AM, November 2, 2023 |
| CCI - San José Business of Art | 10:00 AM, November 9, 2023 |
| CCI - San José Business of Art | 10:00 AM, November 16, 2023 |