CCI - The Business of Art: Entrepreneurial Training for Artists
September 21 - November 16, 2021
Topic: Career Development: Multiple Topic Business Training
Provider/Presenting Organization: Center for Cultural Innovation
Location: Online Classes/Webinars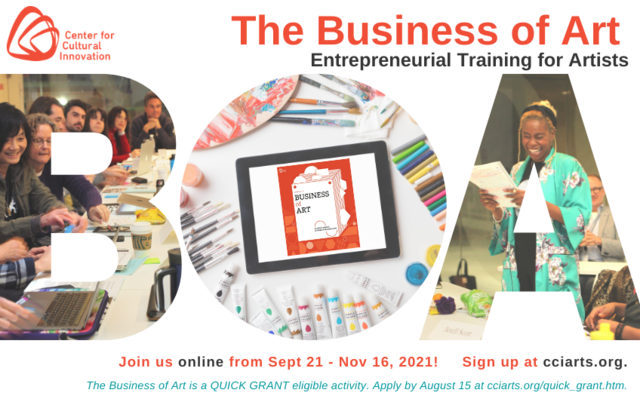 Registration has ended. 
---
Unable to take this workshop?
Build your entrepreneurial skills with the Business of Art workbook!
PURCHASE THE BOOK HERE.
---
The Business of Art is a QUICK GRANT eligible activity for California artists, however, eligible application deadlines are now past. If you are awarded a Quick Grant, you must register for the workshop first, as the grant will be paid out as a reimbursement upon completion of activity.
---
CCI's signature program, The Business of Art, is designed to enhance the business skills of artists and creative entrepreneurs working across the creative disciplines.
Writers, visual artists, performing artists, designers, social practice artists, media artists and other cultural practitioners will learn key skills that will provide you with the knowledge and resources to help advance your art career, develop your ideas, and increase your financial independence. Business of Art workshop sessions are taught by arts and business leaders with both commercial and nonprofit experience. Over nine workshops, you will learn key concepts involved in goal-setting, business models, marketing and self-promotion, money management, legal issues, strategic planning and project financing. In the final session, all students will have the opportunity to receive feedback and insights in small group Cluster Counseling sessions with the presenters. To supplement the program, you will also receive a copy of The Business of Art: An Artist's Guide to Profitable Self-Employment, a CCI publication. 
Weekly presenters will lead live, interactive workshops, and additional peer learning will take place in breakout groups. Most of the sessions will be recorded, however live participation is encouraged. 
Enrollment is limited, and priority will be given to Los Angeles artists. 
---
"Business of Art has been one of the most crucial experiences I've encountered in my career as an emerging artist. I feel inspired, with renewed vigor, a deeper well of confidence, and an excitement to keep mining my depths!"

"It was so valuable to discuss my personal experiences in my art business and discover commonalities between myself and other artists in the workshop!"

"I learned to narrow my focus toward tangible goals that will support a more sustainable practice. Throughout the program, I felt uplifted and supported by Allison, the fellow participants, and the guest teachers. It was validating to work with peers on problems and issues that resonated with all of us, knowing that we are not alone on this adventure toward creating our artistic dreams, even in the midst of the pandemic. While the experience was virtual and participants from many different areas in California, there was a true sense of community and solidarity. I needed that."
"I no longer feel like my career is a thing that's just going to happen to me.
My career is a thing that I control." 
---
Schedule: 
This 9-week class meets via Zoom on Tuesdays from 10:00 AM - 1:00 PM (Pacific).
Week 1: September 21
Presenting Yourself as an Artist  / ALLISON WYPER
Week 2: September 28
Identifying Your Values & Setting Goals / JEREMIAH OLAYINKA OJO
Week 3: October 5
Designing Your Business Model & Building a Business Plan /  AMY KWESKIN
Week 4: October 12
Promoting Yourself & Your Work / SUE BELL YANK
Week 5: October 19
Legal Issues for Artists / CASEY SUMMAR 
Week 6: October 26
Managing Your Money / AMY SMITH
Week 7: November 2
Funding Your Art Project or Business / ELAINE GROGAN-LUTTRULL
Week 8: November 9
Moving Forward with Strategic Planning / AMY KWESKIN
Week 8: November 16
Cluster Counseling and Graduation 
Cost: 
$225 early bird registration (ends Sept 7); $250 general.
Payment plans can be arranged. Please email allison@cciarts.org with any questions.
---
Cancellation Policy: Full refund on registration fees up to 48 hours prior to first workshop date. Fees nonrefundable after that date.
Photography Policy: Center for Cultural Innovation takes photos and videos at our activities for non-commercial, archival, and promotional purposes. By attending this workshop series, you are acknowledging that your likeness may appear on our website, social media platforms, ephemera and publications, and/or archives. If you have any objections, please let us know, and thank you.
This workshop is made possible with support from: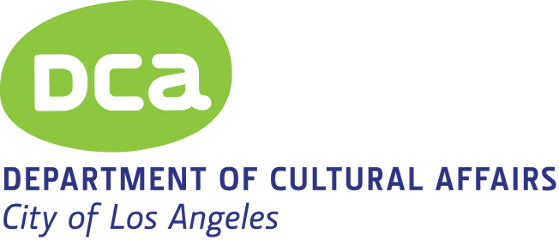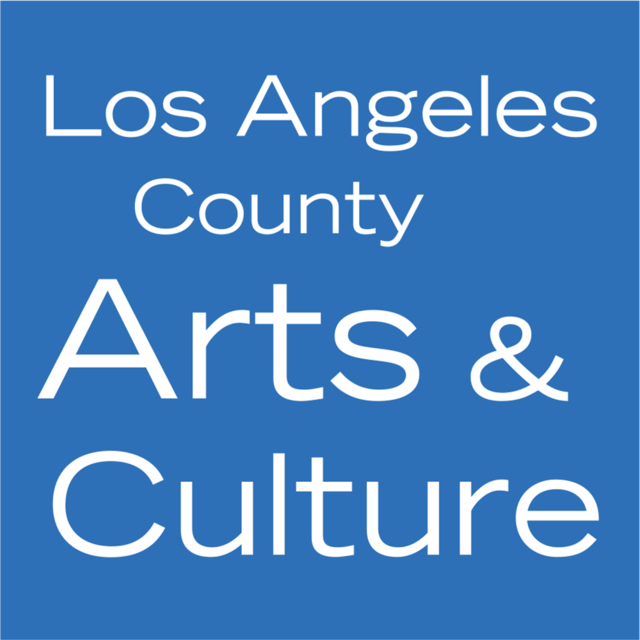 Schedule
Schedule

| Event | Date |
| --- | --- |
| CCI - The Business of Art: Entrepreneurial Training for Artists | 10:00 AM, September 21, 2021 |
| CCI - The Business of Art: Entrepreneurial Training for Artists | 10:00 AM, September 28, 2021 |
| CCI - The Business of Art: Entrepreneurial Training for Artists | 10:00 AM, October 5, 2021 |
| CCI - The Business of Art: Entrepreneurial Training for Artists | 10:00 AM, October 12, 2021 |
| CCI - The Business of Art: Entrepreneurial Training for Artists | 10:00 AM, October 19, 2021 |
| CCI - The Business of Art: Entrepreneurial Training for Artists | 10:00 AM, October 26, 2021 |
| CCI - The Business of Art: Entrepreneurial Training for Artists | 10:00 AM, November 2, 2021 |
| CCI - The Business of Art: Entrepreneurial Training for Artists | 10:00 AM, November 9, 2021 |
| CCI - The Business of Art: Entrepreneurial Training for Artists | 10:00 AM, November 16, 2021 |