INVESTING IN ARTISTS GRANTS PROGRAM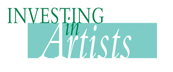 The Investing in Artists' grants program supporting Artistic Innovation projects and acquisition of Artistic Equipment and Tools for California artists will be concluding in its current form with the July 2014 application round for the Visual Arts, Craft and Literary Arts.  Our thanks to The James Irvine Foundation and The William and Flora Hewlett Foundation for their generous support of eight continuous years of grantmaking to individual artists across the state.
CCI is currently in the planning stages for the next iteration of grant programs for California artists and we urge you to check back with us at the end of 2014 for further updates.
Current Program Information:
---
CCI Investing in Artists Grants program is made available in part, by funding from: