INVESTING IN ARTISTS GRANTS PROGRAM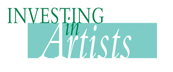 The Investing in Artists grants program was established by the Center for Cultural Innovation (CCI) in 2007 to enhance the working lives and strengthen the creative support system for California artists working in all disciplines. Since that time, with the support of The James Irvine Foundation and The William and Flora Hewlett Foundation, CCI has awarded over $2 million to 270 diverse artists working in various disciplines across the state.
Through the continued support of The William and Flora Hewlett Foundation, CCI is pleased to offer an additional three rounds of funding (2015-2017) for the Investing in Artists program for Bay Area performing and media artists.
Current Program Information:
Who is eligible to apply:
Beginning in mid-2015, the Investing in Artists grants program will incorporate some important guideline changes. Prospective applicants should read the guidelines carefully, as they differ from previous rounds, and make note of the following:
Investing in Artists grants program will now only fund Performing Arts and Media Arts working artists in 11 Bay Area counties of Alameda, Contra Costa, Marin, Napa, San Francisco, San Mateo, Santa Clara, Solano, Sonoma, Monterey and Santa Cruz;
Grants will be accepted under the Artistic Innovation category only for a maximum grant up to $7,500 each; and finally,
Beginning in 2015, artist who were previously funded in the Artistic Innovation category will be eligible to re-apply for a new grant after a two-year waiting period (i.e., if you received an Artistic Innovation grant in 2013, you will be eligible to re-apply for this grant beginning this year).

2016 Investing in Artists Grant Recipients

2017 Guidelines issued: May TBD
Application deadline: July TBD
Project start date: October 1, 2017


Past Program Information:
To browse profiles of past grantees use the search form here. You can also See Past Awards Press Releases.
---
CCI Investing in Artists Grants program is made available, in part, by funding from: