INVESTING IN ARTISTS GRANTS PROGRAM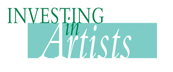 Artistic creation requires more than just talent - it requires an initial investment of time and money as well. For this reason, the need for grant support has become a critical part of the creative process for many working artists today.  The Investing in Artists grants program is designed to address this need by providing working artists in California with the financial resources and creative support systems they need to thrive.
Investing in Artists provides grants to individual  artists in two funding categories:
Grants for Artistic Equipment and Tools (up to $6,000), and
Grants for Artistic Innovation (up to $10,000). 
Applications are accepted on a deadline basis through our online grant submission process only.  
 
Current Program Information:
The 2014 Investing in Artists Grant Program Deadline has passed.
This page will be updated when next year's information is available.

To browse past grantees in this program use the search form here. You can also See Past Awards Press Releases
---
CCI Investing in Artists Grants program is made available in part, by funding from: