ARC (Artists' Resource for Completion) GRANTS PROGRAM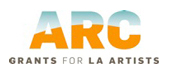 March 2013 Program Update:
With the conclusion of the 2012 Fourth Quarter grants cycle, ARC has completed 12 continuous years of funding resulting in grants made to 570 diverse Los Angeles artists. CCI has been privileged to partner with the Durfee Foundation in this effort by serving as the administrator of the ARC program during the past two years in 2011 and 2012.
We are now pleased to announce the extension of the ARC program for a final five rounds of funding in 2013 and 2014, focusing on artists who have never received an ARC grant and would be "first-time" ARC grantees. We know that ARC grants have played an important role in helping many L.A. artists to get their work out to the public, and we hope that these final rounds of ARC can make that possible to artists who haven't yet received this support.

We would also like to note that all previous ARC grantees are now pre-approved to fundraise for their artistic projects on Hatchfund (formerly USA Projects), and you can take advantage of this option by registering online at: www.hatchfund.org. 
Current Program Information:
See Past Awards Press Releases
---
CCI ARC Grants program is made available in part, by funding from: