ARC (Artists' Resource for Completion) GRANTS PROGRAM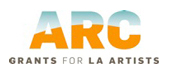 The ARC grants program provides rapid, short-term assistance to individual artists in Los Angeles County who wish to enhance work for a specific, imminent opportunity that may significantly benefit their careers. The applicant must already have secured an invitation from an established arts organization to present the proposed work. The work must fall within the designated presentation time frame of the grant cycle to which the applicant is applying.
ARC - LAST CALL AT THE BAR!!!
The second quarter 2014 ARC deadline will be the grant program's final round. It is open to ALL Los Angeles Artists.
The goal of the ARC program:  to enhance the careers of Los Angeles artists by enabling them to take the best advantage of imminent opportunities to present their work, thereby fostering a climate of optimism in the Los Angeles arts community.

The ARC grants program was initially launched by the Durfee Foundation in 2000. Since then, in partnership with CCI, ARC has supported nearly 600 artists in L.A.

With the 2014 Second Quarter grant cycle, ARC's final round of funding, CCI and the Durfee Foundation are pleased to announce that all individual artists in Los Angeles County, including those who have received ARC funding in the past, are eligible to apply. We offer this "last call at the bar" in an effort to reach as many L.A. artists as possible trying to get their work out for public presentation.

As such, prospective applicants should read the current guidelines carefully, which differ from previous versions.

We would also like to note that all previous ARC grantees are now pre-approved to fundraise for their artistic projects on Hatchfund (formerly USA Projects), and you can take advantage of this option by registering online at: www.hatchfund.org.

Current Program Information:
See Past Awards Press Releases
---
CCI ARC Grants program is made available in part, by funding from: