CCI - They Don't Want Us To Eat Breakfast (Tarzana)
September 6, 2017, 7:00 - 9:00 PM
Topic: Networking/Field Learning
Provider/Presenting Organization: Center for Cultural Innovation
Location: Los Angeles Area
ACTIVATING ARTISTS: They Don't Want Us To Eat Breakfast (Tarzana)
with Jocelyn Ramirez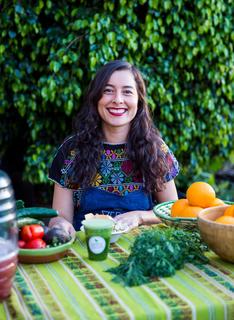 Every plate of food is an expression of cultural identity, accessibility, and livelihood. Explore the issues of food deserts in Los Angeles, health impacts related to food accessibility in low income neighborhoods, and concepts in decolonizing food ways. We'll discuss why "they" don't want us to eat breakfast, and create a visual representation of what changes we need in our food system. 
Culinary artist Jocelyn Ramirez is a vegan cook, yoga instructor, and advocate for healthy food access in her community. After Jocelyn's father was diagnosed with cancer for the second time, she created a plant-based superfood smoothie diet that made him dramatically stronger and helped with a quick recovery. In this process, she noticed the disproportion of healthy food options in the LA area after years of driving across town in search of healthier food for her and her family. This inspired Jocelyn to create a healthy food option for the Eastside community. She founded Todo Verde in 2015 with a mission to create delicious and healthy plant-based food options inspired by familiar flavors using Mexican and South American ingredients. Todo Verde's menu includes local, fresh, and organically grown ingredients from local small businesses, farmers, and a mission based food purchasing cooperative.
Date: Wednesday, September 6

Time: 7:00-9:00pm
Location: San Fernando Valley Arts & Cultural Center, 18312 Oxnard St., Tarzana, CA 91356

(Short walk from the Reseda Metro orange line station, or park in the lot on site.)

Cost:
Free
In the Gallery: From August 22 to September 9, San Fernando Valley Arts & Cultural Center's "Food For Thought" exhibit features artwork celebrating food, drink, cooking, and eating. Visit http://www.sfvacc.org for more info.


***IMPORTANT REGISTRATION INSTRUCTIONS*** (DON'T SKIP STEPS 4-6!)
Click the green REGISTER NOW button, below.

Enter the required contact and (confidential) demographic information.

Click SUBMIT.

Review your Shopping Cart, and add additional guests (if desired).
Click CHECKOUT. 
Enter your billing information and click CONTINUE. (Note: you will not be charged for this event.)

When you see your Receipt, you have successfully registered!
Need to cancel or change your reservation? Email allison@cciarts.org.
Center for Cultural Innovation takes photos and videos at our activities for non-commercial, archival, and promotional purposes. By attending this workshop, you are acknowledging that your likeness may appear on our website, social media platforms, ephemera and publications, and/or archives. If you have any objections, please let us know, and thank you.



Made possible by: