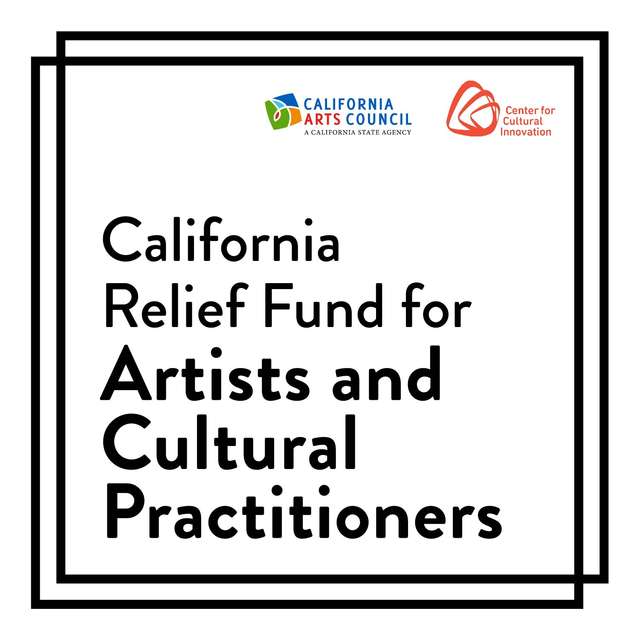 The California Relief Fund for Artists and Cultural Practitioners is now closed. If you applied, you will receive a notification about your application via email on September 1.
The California Relief Fund for Artists and Cultural Practitioners is a partnership between the California Arts Council (CAC) and the Center for Cultural Innovation (CCI). The California Relief Fund for Artists and Cultural Practitioners is distributing $920,000 from the CAC's general fund in the form of $1,000 grants to help artists and cultural practitioners (including fine and performing artists, teaching artists, culture bearers, and maker-based sole or collective creative entrepreneurs) who comprise the various and diverse cultural communities of the state of California.
The California Relief Fund for Artists and Cultural Practitioners is a response to the economic crisis, and ensuing financial needs of individuals, that has resulted from the coronavirus pandemic. The large-scale shutdown that was needed to slow the spread of COVID-19 has continued to put the entire arts sector on hold, effectively disrupting artists' ability to earn income. Individuals are the backbone of arts and culture--exhibitions and performances, educational arts programming, community-anchoring cultural enterprises, and social impact-based creative entrepreneurship--and they need financial help to remain in our communities and contribute to making the state artistically and culturally vibrant.
Given how long the financial consequences of the coronavirus pandemic will last, the Fund welcomes additional support. Please contact Laura Poppiti, CCI Grants Program Director, at laura@cciarts.org if you would like to help with a tax-deductible contribution. 
ELIGIBILITY
Must be a current, full-time resident of the state of California; and must upload ONE proof of current residency in the state of California. Proof is demonstrated by including a legible photo of a current state driver's license or ID; or most-recent utility bill, health insurance statement, bank statement, or other document. The name and address must match that used in the application form.
Must be an artist or cultural practitioner; and must provide documentation that demonstrates applicant's professional role in arts and culture.
Must not be eligible for or currently receiving traditional CA-state unemployment insurance (UI) benefits. (Applicants receiving CARES benefits through the Pandemic Unemployment Assistance [PUA] program ARE eligible for funding. Learn more about PUA here);
Cannot have a conflict of interest (family or financial relationships) with the boards, staff, and directors of CCI and California Arts Council and state-level elected officials and their staffs; and
Can only apply once.
GUIDELINES

 Frequently Asked Questions-English

 Frequently Asked Questions-Mandarin 常见问题

 Preguntas Frecuentas de la Aplicación-Español
Application Deadline and Notification
The application cycle opens Wednesday, July 22 at 9 am.
The application cycle closes Tuesday, August 18 at 3 pm.
All applicants will be notified of their status by Tuesday, September 1.